Providence College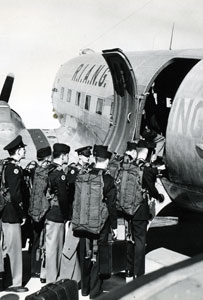 The Providence College ROTC Battalion has been proud to help develop the leaders of tomorrow. ROTC at Providence College dates back to 8 January 1951, when the Very Reverend Robert J. Slavin, O.P., then President of the College, received word via Western Union Telegram that the Department of the Army had approved establishment of a Reserve Officer Training Corps within the college curriculum. The first PMS&T, Colonel Roy P. Moss, was appointed to activate a Transportation Corps Unit on 1 March 1951.
On 19 September 1951, Colonel Moss officially opened the Military Science Department of the Providence College Transportation Corps Unit. The original student enrollment for the 1951-52 academic year was 512 cadets. In 1953, the first ROTC graduating class, consisting of seven men, received commissions in the Transportation Corps. At the beginning of the 1954-1955 academic year the unit was redesignated as a General Military Science program. Before 1957, ROTC was required for all physically qualified freshman and sophomore students, except those engaged in pre-ecclesiastical studies and veterans of the armed forces.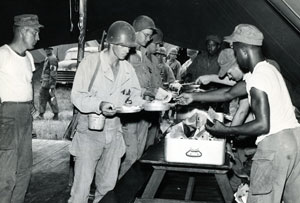 In August of 1956, the Rifle Range was built, and in September of the same year, the Pershing Rifles had its official inauguration into the Providence College ROTC Unit as company K-12. During the early 1960's the Providence College ROTC Unit provided the U.S. Army with many qualified officers, who served in the Vietnam conflict. As a result of the ROTC Vitalization Act of 1964, students from local colleges not offering an ROTC program became eligible to participate in the program at Providence College. The Vitalization Act also resulted in both four-year and two-year ROTC scholarships being placed in effect. ROTC programs around the nation did witness a decline in enrollment during the late 1960's and early 1970's, due to the changing public opinion toward military service.
The revitalization of ROTC began in the 1973-1974 academic year, as women were allowed to enroll in the ROTC program. In 1982, Bryant College was added to the Patriot Battalion and along with Brown University, Johnson and Wales University, University of Massachusetts at Dartmouth, Rhode Island College, Community College of RI, and Bristol Community College.
The ROTC program at Providence College was recognized in 1996 as one of the top programs in the New England and New York. As of May 2023, 2022 officers have been commissioned through the Providence College Program.