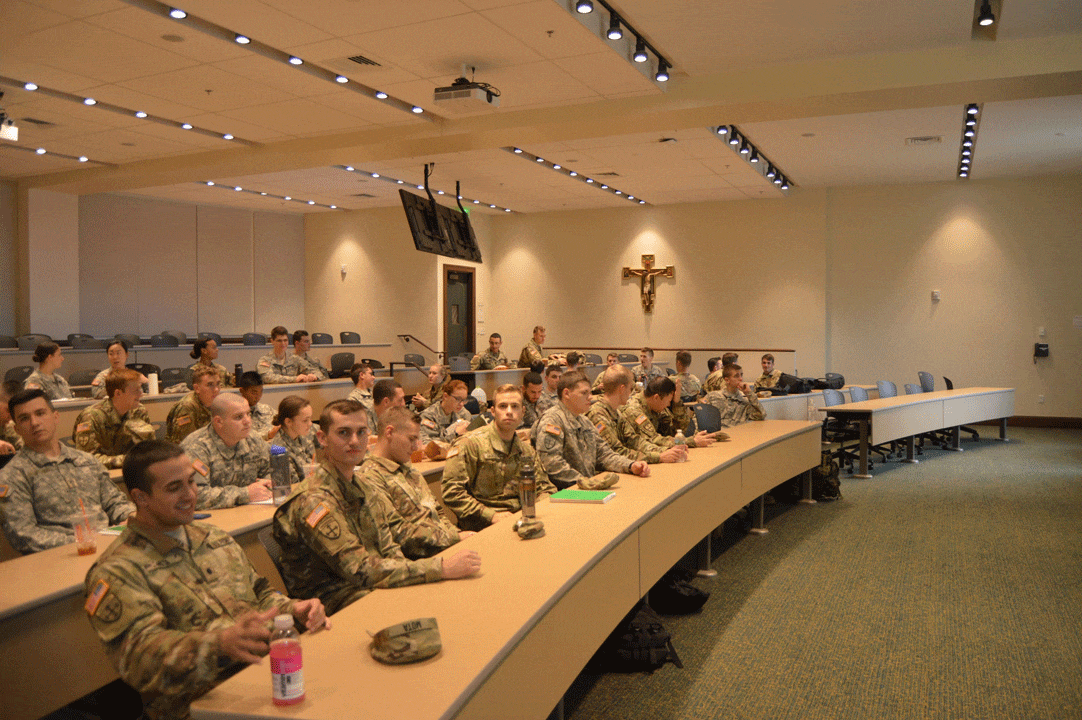 ROTC Academics
In a cooperative association between Providence College and United States Army Cadet Command, the Department of Military Science at Providence College offers Reserve Officers' Training Corps (ROTC) courses as part of the elective curriculum of the College. The curriculum is divided into two parts:
Basic Course Program (Freshmen-Sophomore Year) 100-200 Level Courses
Advanced Course Program (Junior-Senior Year) 300-400 Level Courses
Students may enroll in the Basic Course Program without any obligation to serve in the military upon graduation. For students who have missed portions of the Basic Course, a 30-day summer camp is available to fulfill the requirements for entrance into the Advanced Course Program. Students who decide to pursue a commission as an Army Officer will enter into a contract before enrolling in the Advanced Course of ROTC. Those who complete the Advanced Course will become eligible to receive a commission as an Army Second Lieutenant in the Active Army, Army Reserve, or Army National Guard.
The military science curriculum provides the opportunity for students to experience diversified course offerings which augment the military science courses. The purpose is to ensure a well-rounded student who is fully prepared to meet the rigors and challenges of a professional leader in today's global environment.
For a listing of course descriptions and degree requirements, please see the course catalog.
Academic Overview
Freshman Fall Semester
MIL 101 – Fundamentals of Leadership I with Lab (3 Credits)
Freshman Spring Semester
MIL 102 – Fundamentals of Leadership II with Lab (3 Credits)
Sophomore Fall Semester
MIL 201 – Principles of Military Leadership I with Lab (3 Credits)
Sophomore Spring Semester
MIL 202 – Principles of Military Leadership II with Lab (3 Credits)
Junior Fall Semester
MIL 301 – Small Unit Leadership I with Lab (3 Credits)
Junior Spring Semester
MIL 302 – Small Unit Leadership II with Lab (3 Credits)
Senior Fall Semester
MIL 401 – Leadership and Management I with Lab (3 Credits)
Senior Spring Semester
MIL 402 – Leadership and Management II with Lab (3 Credits)